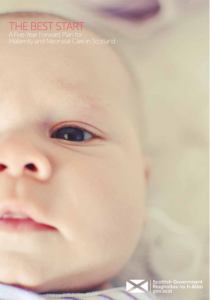 The  National Neonatal Network and National Maternity Network were set up in 2019 and 2020, respectively, following recommendations in The Best Start.  Published by the Scottish Government in January 2017, The Best Start details a five-year forward plan for the improvement of maternity and neonatal (perinatal) services in Scotland.
You can find The Best Start plan here.
The Scottish Perinatal Network is one of the national strategic networks managed by NHS National Services Scotland (NHS NSS) on behalf of the Scottish Government and the 14 local NHS Boards in Scotland. You can find out more about national strategic networks at the NHS NSS website.
You can find out more about how the Scottish Perinatal Network is governed and structured, meet the team and learn about our Strategic Partners and operating environment. Learn more about our work from our Strategy and annual reports and newsletter repository